References — Ultralight Aircraft
UFM-13 Lambada
Manufacturer:
Urban-Air, spol. s r. o., Dolni Libchavy, Czech Republic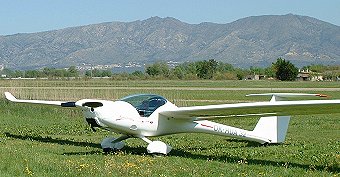 First flight in 1996
Whole structure of this aeroplane is made from composite materials.
Wing — single-spar structure with sandwich skins without a single rib. Properties of modern materials are fully exploited from the viewpoint of strength - for example carbon spar caps.
Fuselage — glass-fibre reinforced plastic shell.
Empennage with controls — sandwich design.
High level of technological processing of composite materials and its surface finishing is comparable to high-tech sailplanes.
This aeroplane is still produced, permanently developed and there was born a lot of variants:
UFM-11 — wingspan shortened to 11 m
Wingspan enlarged to 15 meters by wing extensions
Undercarriage — nose or tail wheel